Start Something Beautiful- Intern at Mary Kay!
Our Internship Program offers undergraduate and graduate students a hands-on and learning-intensive opportunity to gain relevant work experience at the #1 skincare and cosmetics direct selling company in the world. Mary Kay interns participate in activities that introduce them to our people centered culture, our products, and the independent sales force.
In addition to your daily responsibilities, the Mary Kay Internship Program offers several learning opportunities such as:
·       Professional development Lunch & Learns
·       A formal mentorship program
·       Social and volunteer activities
·       Cross-functional projects
·       Special events including the Mary Kay U.S. Seminar
·       Networking opportunities with members of the executive team
Mary Kay provides internship opportunities in a variety of departments such a Supply Chain, Accounting/Finance, Research and Development, Engineering, Information Technology, Marketing, and much more. We are looking for students with a wide variety of degrees, backgrounds, and interests but most importantly those who have a passion for enriching the lives of others around the world! Our internship opportunities are available at our Global Headquarters in Addison, TX and our Manufacturing/R&D facility in Lewisville, Texas.​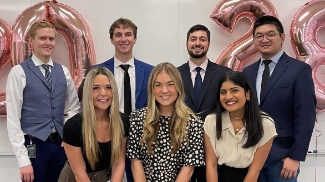 Intern Opportunities at Mary Kay